The VEX World Championship is huge, and your days at Worlds will include lots of walking! Official venue maps are usually available about a week before the event begins, and can help orient you to the layout before you arrive. You'll want to find some locations both on the map and after you arrive at the event in person.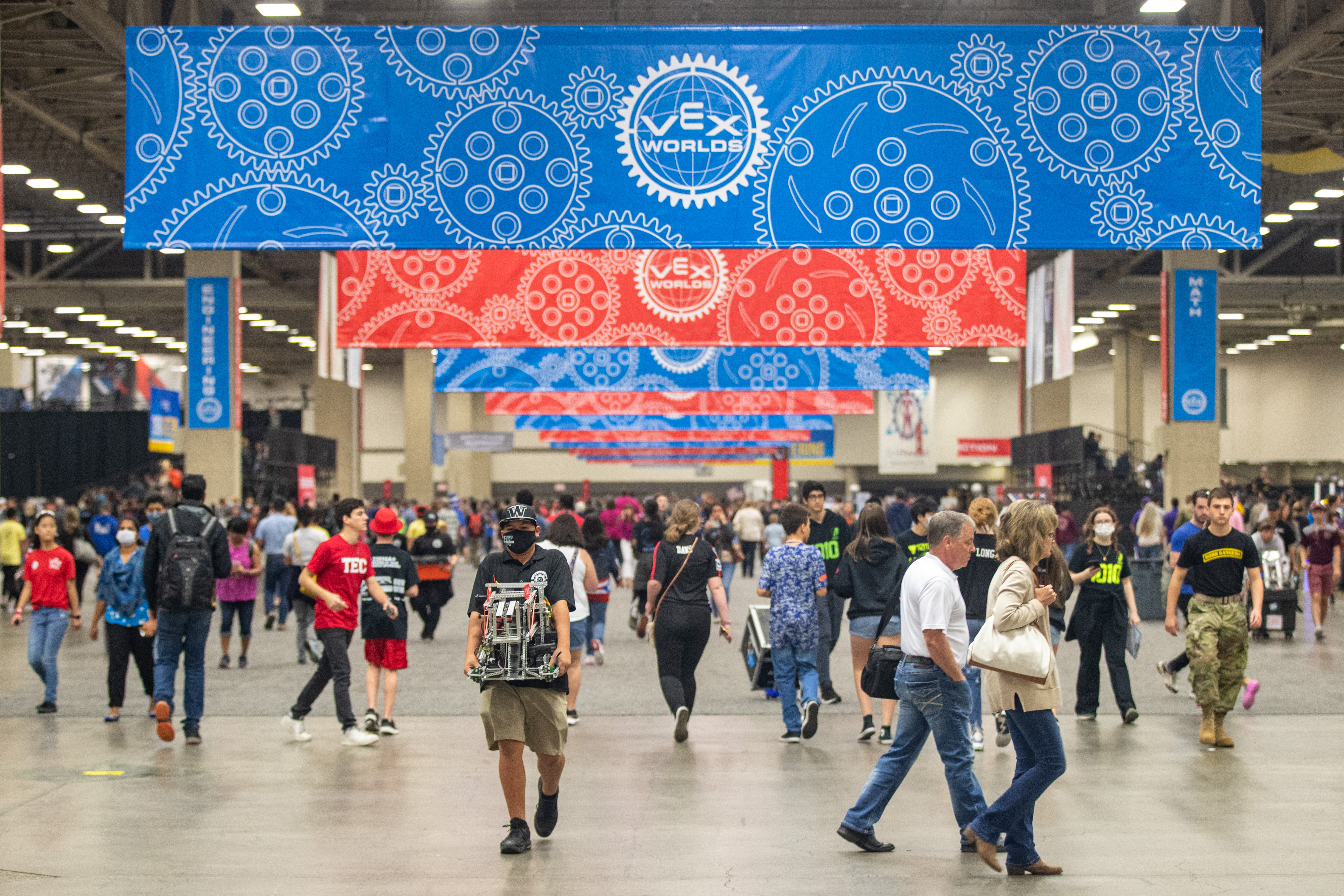 Team Pits
Each team is provided with a curtained pit space (typically 8'x8' or larger) that includes a skirted table, 2 chairs, and one or more power outlets. Pits are arranged numerically, so teams from the same organization are generally located near each other (although they may be separated by an aisle rather than being immediately adjacent). Each pit is marked by a printed sign that indicates the team's number and division assignment; these signs should remain in place and visible throughout the event to aid teams & volunteers in navigation.
Many teams choose to decorate their pits to represent their team, organization, state/region, or country. For the most part, what a team does with their pit is up to them. However, all decorations and equipment must be fully contained within the pit space and cannot extend above the top of the back curtain, and teams cannot fully enclose their pit space. The dividers between pits cannot be removed, but the curtains on the short dividers between adjacent pits may be pulled aside to provide shared space for adjacent teams. Decorations can be attached to the dividers and/or curtains using zip ties, string, shower hooks, S hooks, binder clips, or other similar means that don't damage the dividers or curtains. Decorating pits is the one thing at Worlds that doesn't have to be done by the students–parents, coaches, and other non-team-members can contribute as much (or as little) to the effort as they choose!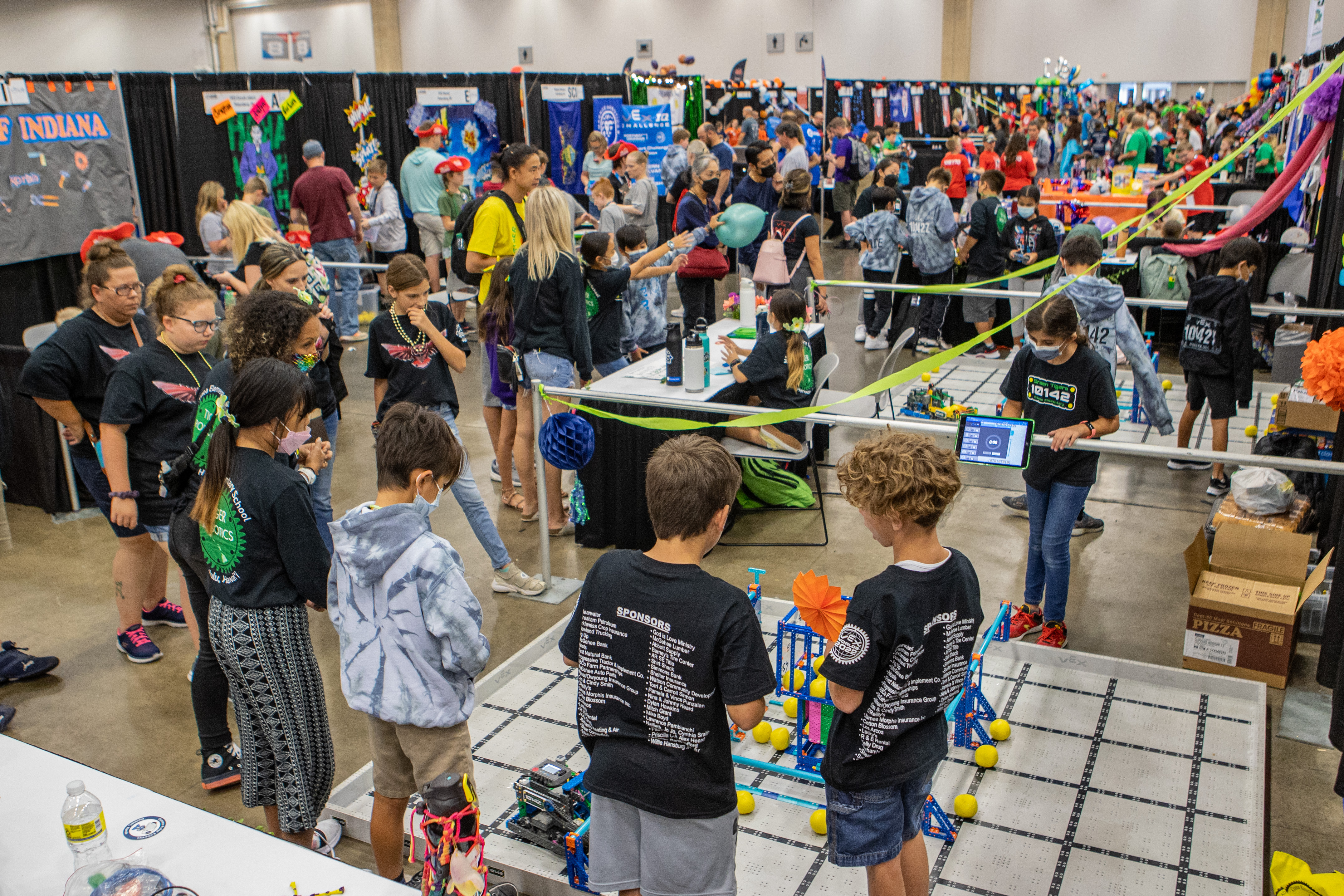 Pits are open to anyone teams wish to allow in, although it's suggested that adults and non-team-members leave if an event Judge arrives at the pit.
Teams can bring game fields, additional chairs, and other items to have in their pits, but the small space will fill up quickly–especially for large teams that travel with entourages. It's common for teams to bring swag to give to or trade with other teams, who visit the pit including buttons, stickers, keychains, or other small inexpensive items that represent the team or their region.
Depending on your team number, it can be a long walk between your pit and the competition and skills fields!
Pit Admin
Pit Admin is usually in a central location, and is the place to go when you have any questions or concerns during the event. It's also where lost & found items (and people) tend to end up. Visit Pit Admin early in the event for some fun giveaways, and for tips on what to see during Worlds. Visit on the last day of the event to pick up VEX World Championship participation medals and pins for your team members. If there's something you can't find, start at Pit Admin.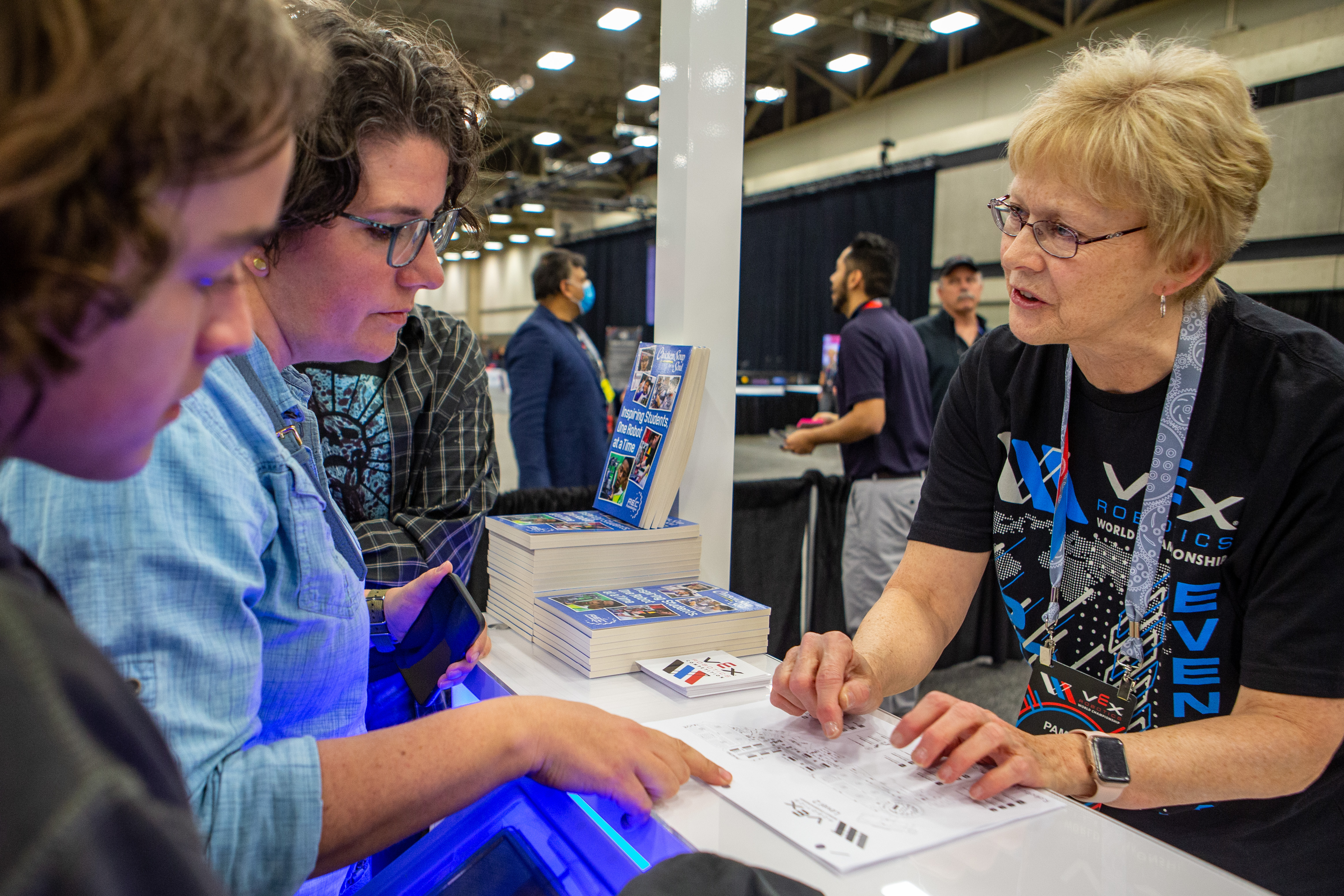 Inspection
Inspection begins as teams arrive at Worlds, and every robot must pass inspection before the team will be allowed to use the official event practice fields or participate in Skills, Teamwork, or Head-to-Head matches. Technical support is available during Inspection to help teams diagnose and solve problems with their hardware or software. Robots that pass inspection will be visibly marked, and this marker must remain in place for the duration of the event. Robots may be subjected to additional random sizing and checks during the event.
Onsite Support
VEX Worlds is attended by teams from around the world, and also by the people who design the hardware and software used by those teams. Event staff members are on hand to help teams fieldside during Worlds, and additional specialists in VEX hardware and software are available to help teams diagnose and solve problems during the event.
Divisions
Teams are sorted into divisions for participation in qualification matches and Division Finals. Past methods of assigning teams to divisions has varied, but multiple teams from a single organization will be spread across as many divisions as mathematically possible.
A Worlds division functions like a mini-event within the VEX World Championship. Each team in a division is assigned to a single practice match (which runs in the division, not at the practice fields!) to get accustomed to the Worlds match flow and multiple qualification matches (usually around 10 per team). All alliance partners and opponents for the official practice match & qualification matches are teams from the same division. Alliances for the Division Finals are formed from the same set of teams. Each 2-team Division Championship alliance progresses to the Overall Finals to represent their division in the Dome. Most teams at Worlds will only compete with and against other teams that are assigned to the same division.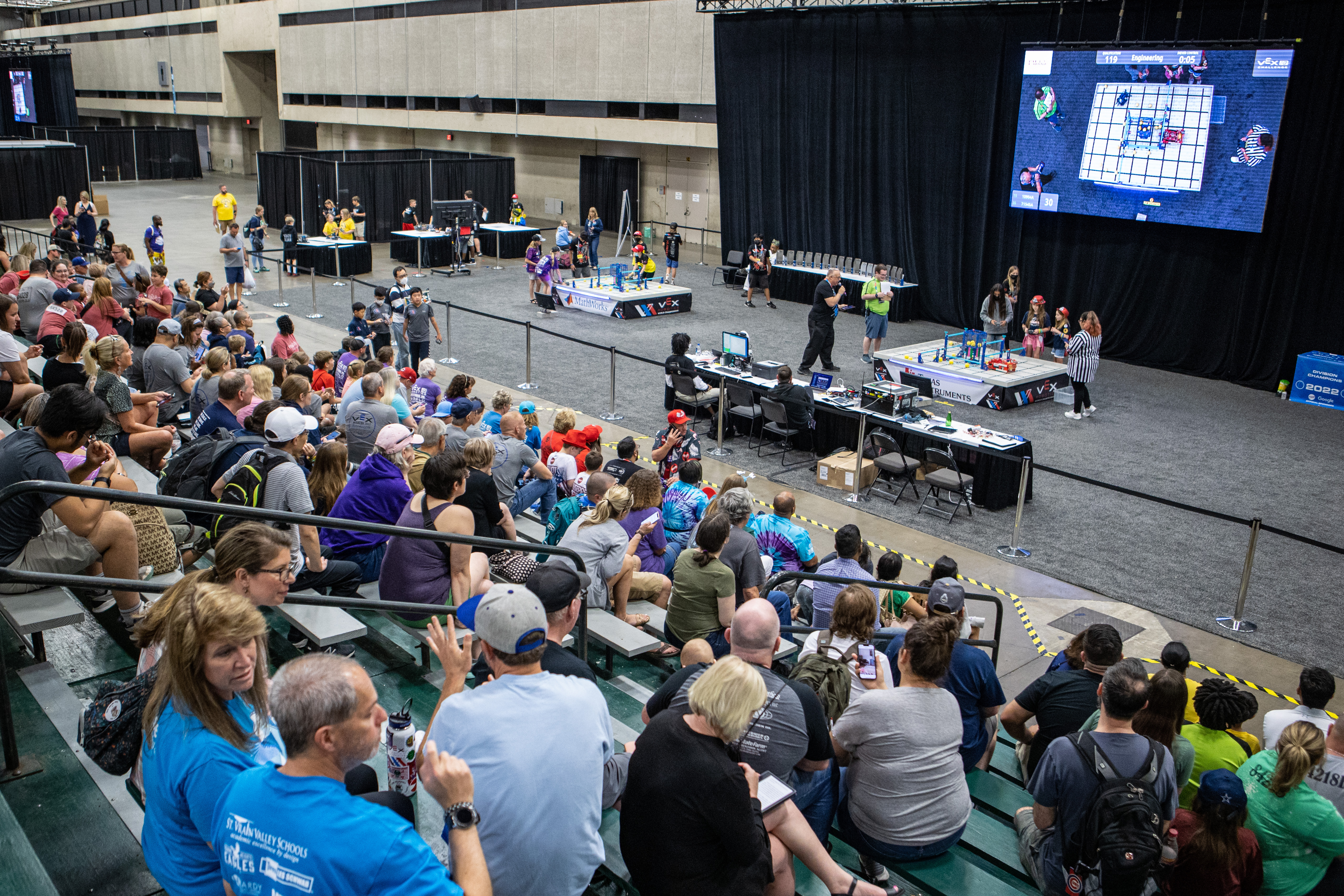 Physically, a division consists of a cordoned-off area (limited to current drive team members) that includes queuing tables, multiple raised competition fields, tech support, a computer that runs Tournament Manager for the division, and an A/V setup that is dedicated to the division. Divisions also include a set of bleachers for audience seating, a large screen and projector for audience viewing, and multiple displays for rankings and queuing.
The Queue Managers at Worlds usually don't have time to track down teams that are missing as their match start time approaches. It's a good idea for teams to proactively track down alliance partners well before the scheduled match start time. Divisions often run a few minutes ahead of schedule, but will generally wait until the scheduled match start time to begin a match with a missing team. It is your team's responsibility to be early or on time for every match. It might be helpful to designate a team member to watch the match queue and let the team know as their match approaches.
Division Staff
Each Worlds division is supported by a core group of event staff: a Division Manager (comparable to the Event Partner at other competitions), one or two Head Referees, one or two Emcees, a Field Tech, an A/V specialist, and a software operator. With rare exceptions, these core staffers will remain at the division for the entire competition. Each division also has volunteer Queue Managers, Scorekeeper Referees, and Field Resetters that fill the role for half a day or more.
Division Awards
Most of the judged and performance awards given at the VEX World Championship are awarded at the division level during and following the division finals. Excellence, Skills Champion, and Overall Finalists/Champions are the only awards presented during the closing ceremonies in the Dome.
Practice Fields
Numerous official practice fields are located in one or more cordoned areas near the team pits, and are supervised by a volunteer Practice Field official. Teams are allowed a limited amount of practice time each time they enter the practice area, and must move to the end of the queue to begin another practice session. If there are multiple sets of practice fields, one line might be significantly shorter than the other.
Skills Fields
The Skills Challenge fields at VEX Worlds are located in a separate area from the Practice and Division fields. Just as other competitions, each team can make up to 3 Driving Skills and 3 Programming Skills attempts during the event. Skills fields typically open on the first day of the event, and can be used by teams that have passed Inspection. There are no scheduled times for skills runs, and it is each team's responsibility to ensure that they make time for all desired runs. The Skills Challenge for the VEX World Championship is not divided into divisions, and each team within a competition and age group (i.e., VEX U / high school / middle school / elementary) is ranked against all other teams in that competition and age group.
Skills fields are run by volunteer Scorekeeper Referees under the supervision of one or two shared Head Referees and other event staff.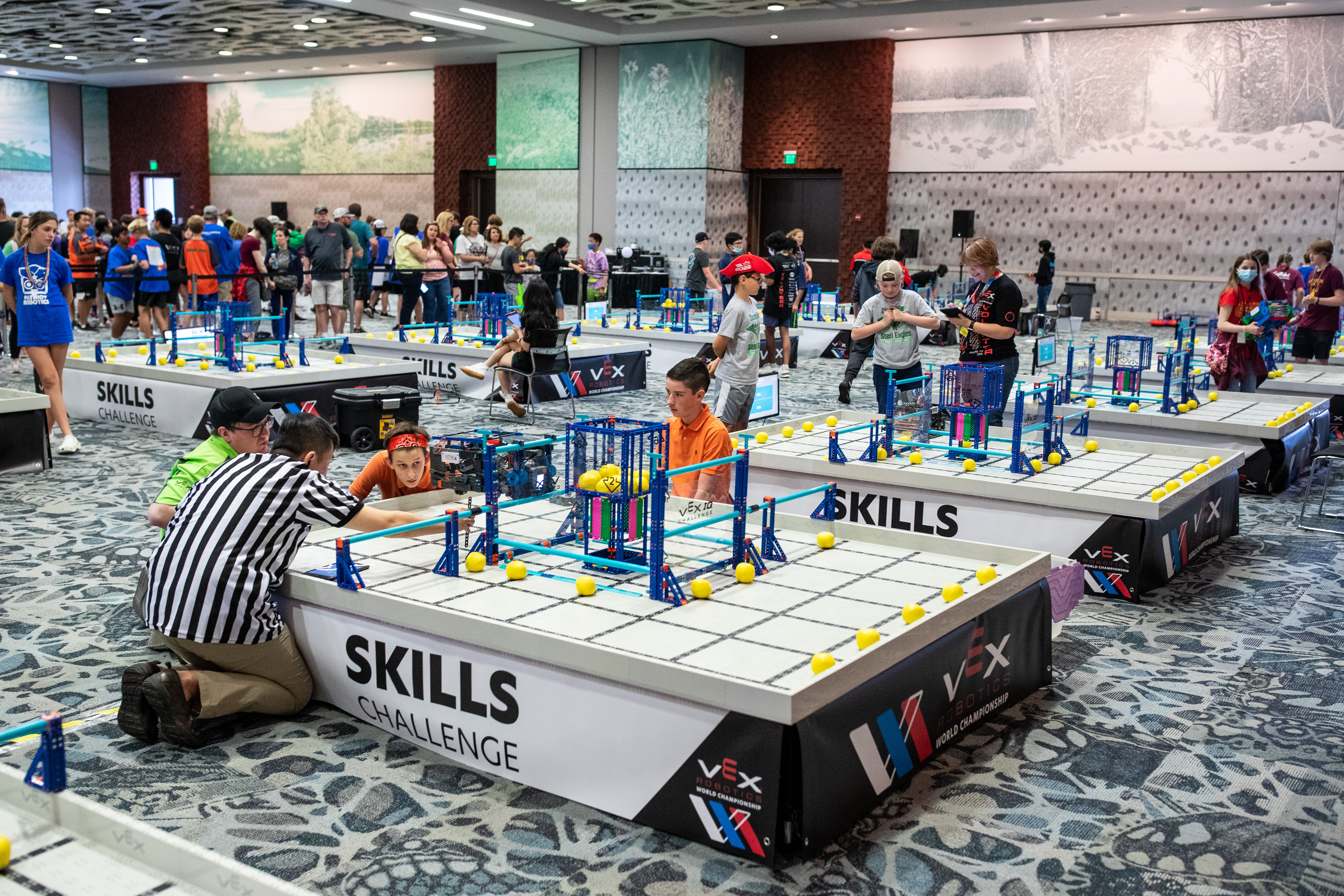 The Dome
The Dome is the onsite arena that hosts the opening ceremonies, overall finals, overall awards, closing ceremonies, and new game reveals. During each event in the Dome, sections of the on-floor seating are reserved for VIPs, event staff, special needs attendees (e.g., attendees that require the services of a Deaf Interpreter), award winners, and other specific guests. General seating in the Dome generally opens 30 minutes prior to the scheduled start time. The Dome can be overwhelmingly loud for some guests, and guests with known sensitivities to high volume may want to bring noise-moderating earplugs or headphones. Onstage activity is projected on numerous large screens in the venue, and generally in the nearby divisions as well, to ensure clear visibility regardless of the seat.
Event lighting in the Dome makes fluorescent clothing even more vibrant, and teams are encouraged to bring glow-sticks and other fun light-up items to add to the excitement.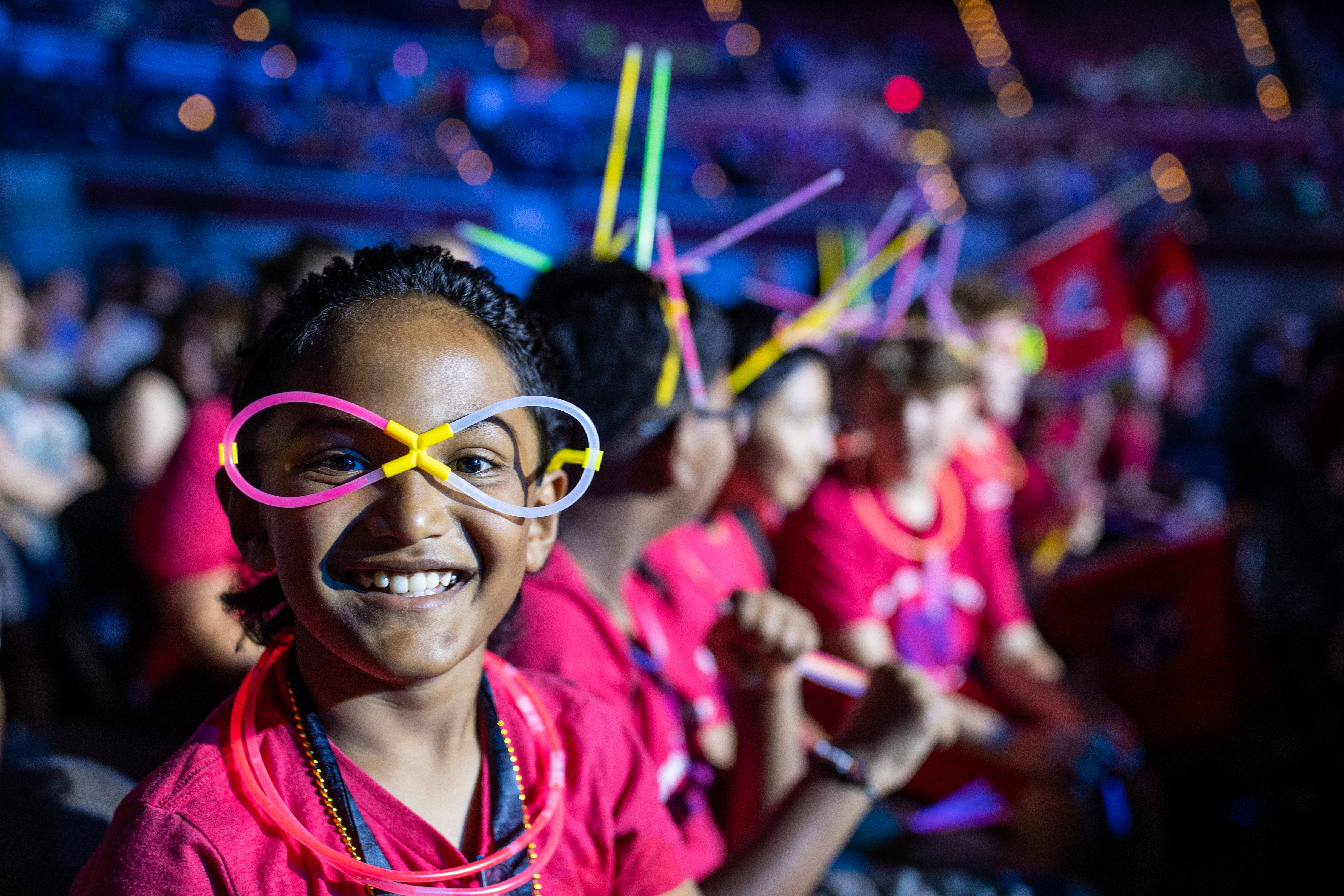 Vendors
Most onsite vendors do not take cash, checks, or Apple Pay. Teams will need to consider how students will make any needed purchases; reloadable gift cards may be a convenient way to provide students with limited amounts of spending money. 
Apparel
Fine Designs sells a variety of VEX World Championship apparel, both onsite and online. Most items can be customized with your choice of graphics; the onsite store generally offers more customization options than are available online.
VEX Robotics
VEX Robotics offers a limited range of VEX products for sale onsite, and restocks the store frequently during the event.
Food 
Outside food and drink are prohibited by the Worlds venue, but numerous onsite options are available including pre-ordered meals and onsite concessions. Teams are also welcome to leave the convention center for lunch.
Exhibitors
VEX World Championship sponsors and other interested companies and colleges host a wide variety of interactive and informative booths for attendees to explore.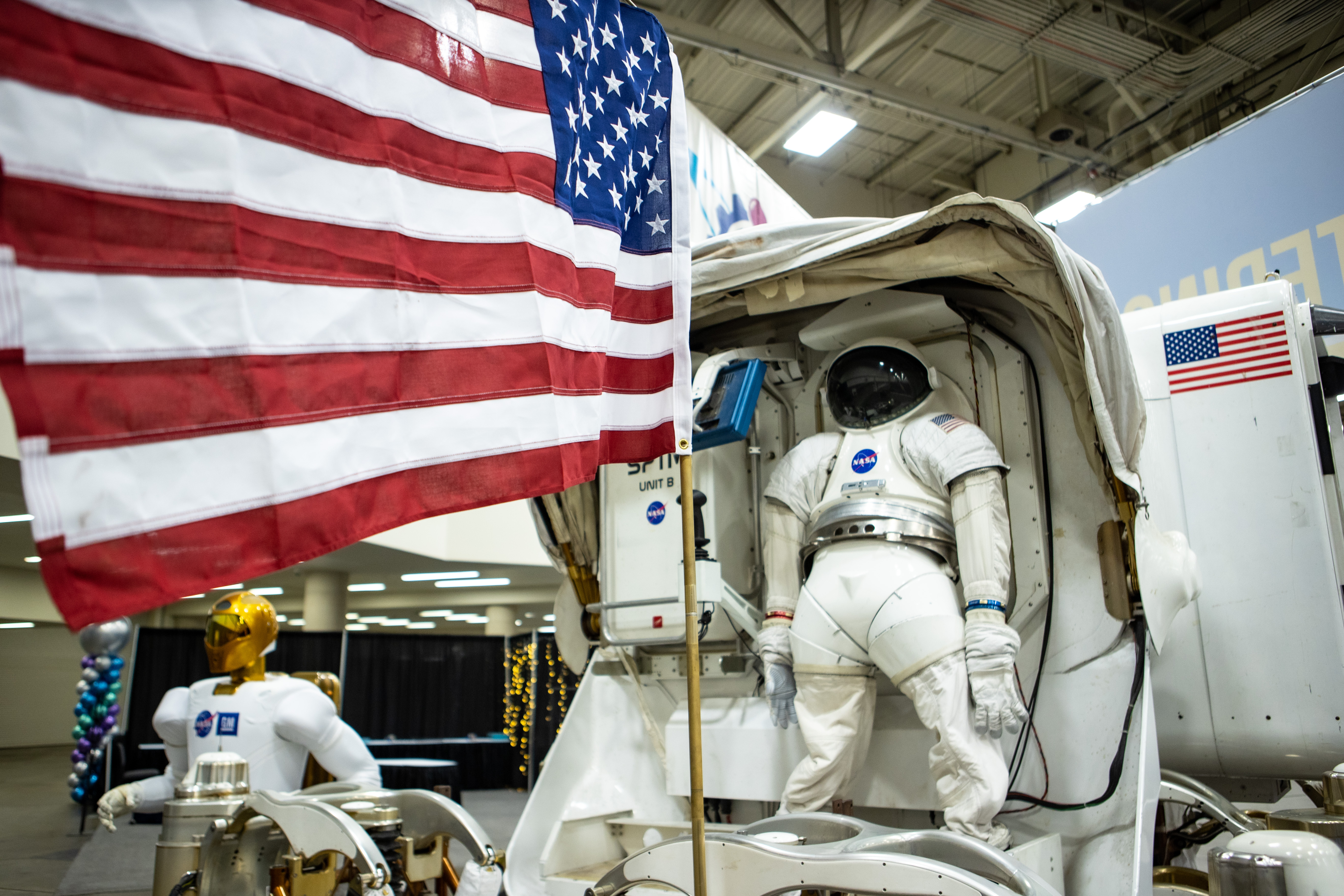 Volunteer Registration
Volunteering is one of the best ways to experience the VEX World Championship, and many roles require no prior experience. Whether you'd like to help for half a day or a week, your skills and time will help make the event better for all attendees. Sign-up options are available online in the months and weeks prior to Worlds, or in-person at the Volunteer Registration booth. All volunteers get a free event shirt and name badge. Full-day volunteers are invited to join the event staff in the volunteer lounge for lunch.
Guest Registration
Invited guests and VIPs should check in at Guest Registration upon arrival.
Additional Info
For more tips on preparing for VEX Worlds, visit these additional articles: